Cover of the Week – Cumberland Receiver with Ottawa Jubilee Flag Cancel
Cover of the Week – Cumberland Receiver with Ottawa Jubilee Flag Cancel
If you follow the EBay auctions for squared circles you could not have helped noticing the several lots for sale over the past couple weeks with Cumberland Type I Receiving marks.
One of my specialties is multiple hammers on one cover and these were really a group of true gems.  Interesting lot as they must have been lurking in someone's stock or a new find of mail sent to Cumberland.
I bid on them all but the prices went pretty high with a couple over $100 and many around $50.
The roster inventory shows only 15 covers known and this lot has contained at least that many, likely doubling the known strikes of Cumberland on Cover, though all of these have been receiving marks.
Cumberland is fairly uncommon with an RF of 35.  It also is one of two type one SC's with an inner arc connecting the Town name and the province , the other being Coleman with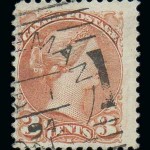 much greater rarity.
This cover was sent from Ottawa on June 24th 1897 and has a nice full impression of the Queen Victoria Jubilee flag cancel on the 4th day of known use (based on published earliest reported use of Jun 21 1897).
The Cumberland cancel is an overstrike at the bottom of the flag cancel.
This will be a treasured addition to my collection and though I was seeking to buy some of the cards with multiple hammers, this perhaps is even more desirable for the lovely flag cancel.
Also, worthy of note that this card is Postal card:  Webb # P12-message portion / Unitrade UY12-message portion (message portion of reply card-same size and design as #P11 regular post card)
Another gem from this group is the Ottawa, Cumberland, multiple hammer cover with double type I cancels.  This cover sold for $103.
Great stuff that comes up every so often!  Congrats to Mike Babier in Whitby for offering this material!