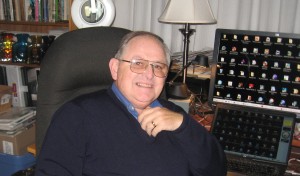 About Us
Every website is supposed to have an about me page so here goes.   This is where you spout off about yourself and stroke you ego!
Sorta like "Enough About You, Let's Talk About Me!'
Truthfully,  I am very humble and thankful for many great things in life, the greatest of which is my family.   I am the "onliest" stamp collector amongst us although my Grandson Ben is showing signs of interest.
I hope to help him cultivate this interest.
Professionally, I am a business owner.  My wife and I have owned and operated Springvale Nurseries in Berwick NS for the past 25 years.  If you want more info about our business go to www.springvalenurseries.com.  I am a graduate of MacDonald College (McGill University) with a Bachelor of Science in Agriculture, Class of 1969.  And the Nova Scotia Agricultural college in 1967.
For 10 years I worked for the Nova Scotia Department of Agriculture as an "Ag Rep" and this is where I met many lifetime stamp friends through community stamp clubs including the Truro Philatelic Society and The Valley Stamp Club.
It was during my time in Amherst, Truro and Windsor, NS that my childhood hobby of stamp collecting started to take off.  And though I have not been able to maintain unbroken focus it has always been a place to unwind and get out of the pressures of life and business.
My interest in the Squared Circles of Canada grew from association with people like Roger Greer and Bob Burton of the Valley Stamp Club and Mr. J Arthur Wilson of the TPS.  My collecting interest always focused on Canada and the provinces but quickly narrowed down to SC's and I started pursuing and buying these little postmarks where ever I could .
Soon this passion narrowed to focusing on the SC's of Nova Scotia and the Maritimes.  In 1971 my wife and I and new daughter moved to Windsor NS from Truro where I became Ag Rep for Hants county in 1973.  Low and behold, my new next door neighbour was Mr. J A Wilson who I had known in Truro.  Arthur and Cookie Wilson had recently retired to Winsdor and became our new next door neighbours on Clifton Ave just across the street from Clifton House, the TC Haliburton Museum.
We became very close friends and over a period of a few years I bought much of Mr. Wilson's accumulation of covers and cards which he had rescued from the Dominion Chair Factory in Bass River NS where he lived and worked as an insurance broker for many years.   This included many shoeboxes full of commercial postal cards and covers from the 1860's up until the 1940's, virtually 1000's of card and covers.
Much had been sorted and categorized and among the lot were 1000's of Squared Circle Card and covers including some very good Nova Scotia and Maritime Material..
This formed the basis of my collection and since that time I have bought in auctions and from dealers and wherever else I could find good pieces.
My Maritime collection objectives have been to acquire an example of each town on stamp, on cover,  on Jubilee and on Map stamps and their respective covers where these exist.  (As well as any other interesting common or unusual materials from these towns.)
I am fortunate to have found many one of a kind items and continue to search for good squared circle material, particularly missing pieces for my Maritime collection .  (Hint, I buy good quality squared circle material and do sell or trade surplus of the same).
My exhibit of the Squared Circles of Nova Scotia has won two Gold Medal Awards at the Valley Stamp Club level, Silver at the Nova Scotia Stamp Club  and a Vermeil medal at BNApex in Halifax in 2010.
Over time I will post images of my squared circle Items to these pages.  I also welcome your material for display as well.   We are delighted to host guest articles about SC's and would be happy to do so either anonymously or with your name published.
I welcome your comments or contact about anything to do with the Squared Circle Postmarks of Canada and will do my best to respond promptly.
Paul H Grimm,
Oct 8th, 2011